Here is an essay I wrote for Powells.com:
http://www.powells.com/essays/turgeon.html
I also meant to mention that I read
Jenny Pollack's Klepto
last week. Jenny is in the workshop I've been in for over 4 years, with the inimitable Jennifer Belle, tho she goes a different day of the week so I only saw this book in glimpses. Still, it was very cool to see the finished thing and I couldn't put it down! A really fun read, very funny and quick and glimmery. And the book itself is so adorable you want to eat it! Or stick it in a bowl in the front hallway.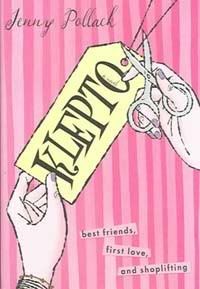 Right now I am reading The Magic Toyshop by Angela Carter, which is so gorgeous and whacked out, just stunning and loony and weird and dreamy. I mean: "Such a round moon. Trees laden to the plimsoll-line with a dreaming cargo of birds. The dewy grass licked her feet like the wet tongues of small, friendly beasts; the grass seemed longer and more clinging than during the day. Her dress trailed behind her; she left a glinting track in her wake. The still air was miraculously clear. Shadowed objects--a branch, a flower, stood out with dark precision, as if seen through water. She walked on slow, slient feet through the subaquaneous night. She breathed tremulously through her mouth, tasting black wine."

!

While I'm at it, I should mention that this is one of my favorite books--extremely dark and hollow and vicious and amazing--and possibly my favorite book cover ever: