I had all these plans today that I cancelled because I am trying trying trying to finish this novel and get it, or at least a big chunk of it, to my agent this week before I fly off to California. I feel very locked rapunzel-like in a tower when I should obviously be off iceskating somewhere, or doing something glamorous involving fireplaces and mulled wine. I would however like to say that:
1) I love
Calexico
.
2) I am obsessed with those crazy fairy-hoaxing storytelling girls, whom I stare at every day and who figure prominently in my boook: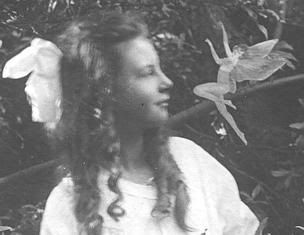 3) My friend Massie was just expressing huge jealousy that I get to hang out with
this woman
in two weeks at
this event
, the page for which unfortunately features a photograph of yours truly looking like a rabbit. Anyway, Massie recently heard her on NPR and said she's amazing, a madly interesting/interested in everything little dynamo. I also, by the way, get to stay at a cozy charming Vermont Inn that has a lobby with a big fireplace in it. I really, really like fireplaces. The end.