So I'm sitting in my lovely apartment in Florence. I arrived yesterday after various mishaps at the Rome train station and many many hours without sleep, then met PM, the wondrous antiques dealing friend of a friend of a friend who hooked me up with this apartment, and he spent a few hours showing me Florence and leading me to the best sandwich I have ever had--truffle cream and pork!--at this little stand on a side street off the Bargello and showing me where to get the best hot chocolate and where to get the best cheap meals and where to get my money changed (<<a very VERY sad affair, by the way) and all kinds of things, and we went by Dante's house and Dante's church where Beatrice is supposedly buried and we went into this little shop across from the church where PM's friend Simone makes these tiny little leather boxes--shaped like shells and hearts and waves--by hand the same way his father and father's father did, and Simone was standing there behind a table in a long apron in front of a line of cool rustic tools hanging from the wall, covered with dust and looking like he should be hanging out with Nick Cave and Blixa Bargeld. I am going back tomorrow and forcing Simone to tell me 50000 stories, as I am quite convinced he is in cahoots with Dante and Beatrice's ghosts. After PM left yesterday I proceeded to sleep for about TWENTY HOURS. Then I got up today and wandered around and walked along the Arno and crossed one of the bridges and wrote a bit in a little wine bar PM recommended, but the whole time feeling like I could sleep SOME MORE. So now I am back home and trying to hold out till midnight so I can get on some proper kind of schedule again.
In the mean time, here are some suspicious things I have seen.
1. Whilst lying on the living room couch earlier, close to an open window, I looked up and saw this fearful sight. I think I gasped out loud. Have you ever seen such evil?!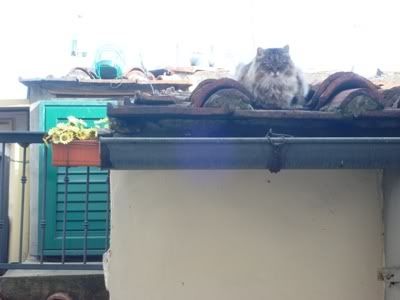 2. Now this photo, taken from my table inside the wine bar earlier, may look innocent and nondescript. HOWEVER not five seconds before I took this I witnessed a man walking his dog along this street, then allowing his dog to stop and RELIEVE HIMSELF on the wheels of that gray motorcycle. SO gauche!
3. Look at all these notes left to BEATRICE, who didn't do anything but wave to Dante ONE TIME and then die. Very, very fishy.
4. I could not help but notice, as I was walking over the bridge-that-is-not-the-Ponte-Vecchio-but-to-the-left-of-it, that they have conveniently provided a PLACE TO JUMP FROM. That is the Ponte Vecchio in the distance, whispering "come to me, come to me." I covered my ears with my palms and ran all the way home!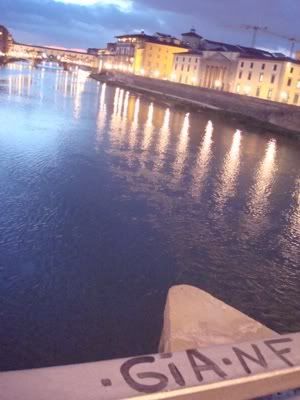 Despite its many many evils, I am quite madly in love with Florence and I think I am going to NEVER LEAVE.
The end.