So after the worst travelling day ever, which involved a 9 and a half hour flight from Rome to Philly, during which yours truly watched a Nicholas Cage/Jessica Alba movie, a movie about a girl playing soccer, the latest Die Hard movie, AND an episode of NUMBERS or whatever it is called, ALL WHILE SITTING IN THE MIDDLE OF THE MIDDLE ROW, and then, in Philly, waiting in 50000 lines and having to recheck all luggage, and then having the piddly half hour flight back to NYC delayed for THREE HOURS, I am finally finalllly home.
Here are some random Rome photos, and tomorrow I should have some more that will seem as if they came STRAIGHT DOWN FROM HEAVEN instead of from the depths of my fashionably pink camera.
1. Joi and me on the Spanish steps: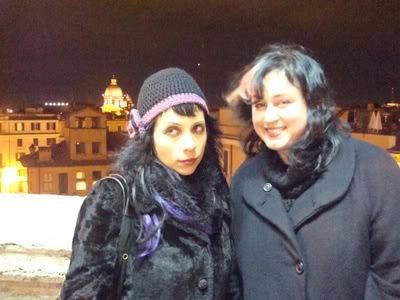 2. A very enticing ad for a bed and breakfast taped to the top of a dumpster:
3. Eric, Joi and me bravely riding in the teeny tiny deathtrap of an elevator at our hotel:
4. And one of the gorgeous graffiti-covered silver subway cars, the likes of which one cannot find anywheres in New York.
The end.