So on Saturday, after a day spent in Vatican City at the Sistine Chapel and St. Peter's... --
and by the way, I feel that this photo sums up a visit to the Sistine Chapel: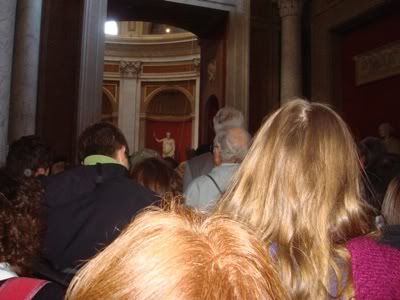 And do you see these little old ladies, one of whom is a nun? They cut in line in front of us to get into St. Peter's, so vast was their love of the divine therein.
This photo was taken just before I gave this nun the finger, of course. ---
So as we walked down that one street heading to the river, having had our fill of divinity, a strange sight did come upon my eyeballs. The sky was filled with beasts! Black beasts swooping up and down and across the sky together, making strange dark patterns against the dying light!
LOOK!
As I stared up in amazement and horror, the demons did make patterns in the sky! We walked closer and I went across the bridge to get a better view. And the beasts only grew more bold and were shameless in their swooping.. And it was clear to me that evil was upon us, spelling out our doom... BUT NO ONE EVEN BAT-TED AN EYE!!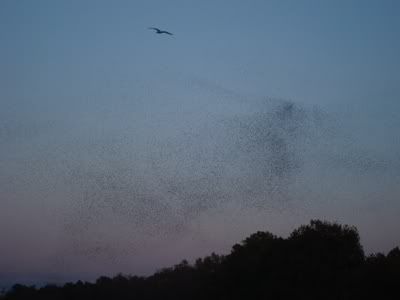 I guess it is normal for the devil to be so close to Vatican City, trying to wend and weasal his way in.. but I could not believe the nonchalance of the Romans around us, so inured to the battle between good and evil raging amongst and above them..!!!