This is the most shameless piece of self promotion I have ever seen in my entire life.
That's right.
Anton Strout's
lazyass Christmas card...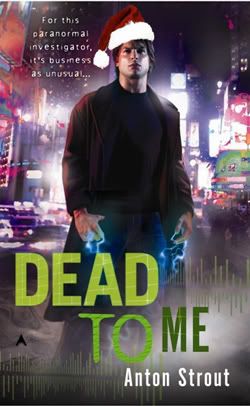 IS HIS BOOK COVER WITH A SANTA HAT PHOTOSHOPPED IN.
In other news,
I had a completely lovely dinner with Eric and Shax last night at
Cafe Luxembourg
... which is so warm and sparkly and romantically brasserie-ish, and we had cocktails and wine and I had two of my favorite foods, butternut squash soup and a heaping plate of mussels.. Andddd I learned a bunch of wondrous things. As I have decided to go full force into my Dante novel next, instead of finishing the noir as I had thought, I need to get a lot of facts together about life in medieval Florence as quickly as possible, and Shax, who is getting his PhD in material culture, or the history of decorative objects, told us all kinds of things about how people used to live and what they ate and how they made elaborate designs out of sugar, etc etc.--beautiful, mesmerizing things--and he gave me this big bibliography to start my own research. And Eric brought me back an Emily Strange book from Berlin that is red and black and white and delicious, like a perfect piece of embroidery. And we saw Enchanted, which was half awesome and half wayyy too long. But Cinderella calling out to the woodland animals of NYC and filling the apartment with sweeping and scrubbing rats and roaches and pigeons was not unspectacular.
Today I met David for lunch at
Keens Steakhouse
and had wine and filet and heard many wondrous stories about his massive crazy family, complete with grandfathers who had soda businesses called Sweetie and grandfathers who invented seamless stockings and stepgrandfathers who discovered Komodo dragons. He gave me a lovely vintage bottle of said Sweetie soda--with a picture of his grandmother on it!--which is red and white and black and not only matches my new Emily Strange book but my enviable Italian handbag.
Oh, and Anton's book is now in galley form and I got my mitts on it when he and Orly came over last weekend... and it is VERY VERY COOL to hold it and fondle it and here is his very rood note to me inside:
Sturgeon,
This book would be much less glittery and full of less description and cinnamony details [WITHOUT YOUR GORGEOUS AND INVALUABLE INFLUENCE IS WHAT I THINK HE MEANT TO ADD HERE].
The royalties, however, are mine.
Love,
Anton