I saw this movie TWICE last year at the Tribeca Film Festival--first because my friend Mike worked on it and second because it was so amazing. And now
Planet B-Boy
is coming out in theaters this Friday (in NYC, at the Sunshine) and this Wednesday is a big party for it and even tho I just got the final edits for
Godmother
and have cancelled all other plans so I can finish it
this week
before heading to Pennsylvania for Easter and then spending all next week packing for mah big move and then the two weeks after that finishing up all the last projects for my soon-to-be-history DAY JOB,
I MUST GO SEE ME SOME BREAKDANCING
.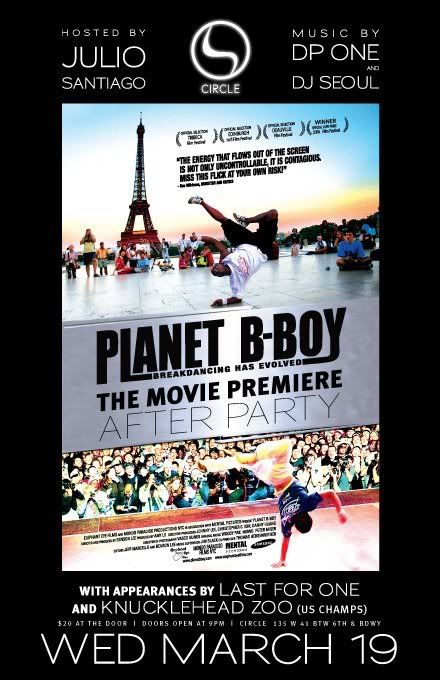 In other news, yesterday my sister and Angel and I went to La Paella for lunch, where we had paella and gazpacho and split a pitcher of sangria, and then we went and had hour long massages. During which I am almost slipped off of this earth completely. Afterwards I couldn't see straight for a good ten minutes. Lovely!
And and in other other news, I MAY WELL BE GOING TO JORDAN AND EGYPT IN JUNE. And Iceland and Germany and/or back to Italy this fall.
The end.