So I had a very lovely weekend in Philadelphia with my friends Mark and Jen and their baby Anna, all of whom live in a cozy wooden-floored fireplace-lit art-filled magical rowhouse in S. Philly, which I have described previously and is one of my very favorite places. Mark strapped Anna onto his chest and Saturday we wandered around looking at antiques and art and books, and tried on many many hats in stores filled with vintage bras and Jayne Mansfield movies.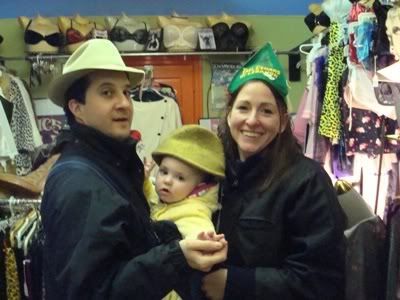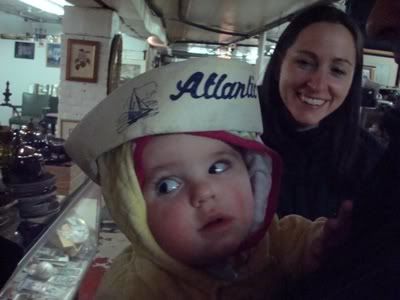 We also had a very lovely lunch at this place Sabrina's, where Anna stared and squawked at everyone in the vicinity causing one exceptionally rhinestone-y beautiful black woman to call and coo out repeatedly, "YOU WANNA BE MY GIRLFRIENDNNNDDD???" which I think might be the best thing to say to a baby ever.
And when it was time for Anna's nap she just went to sleep right on Mark and slept that way for at least an hour.
During which time I bought a book of Cavalcanti poems and these astonishing bakelite earrings.
Then Saturday evening Mark and I went to see the lovely
Odyssey
starring Ms. Trillian Stars, aka
hennepin
, who looked spookily and gorgeously glamorous in the candlelight as she channeled Circe and Penelope and Athena and all other type of other ancient enchantress.




Afterwards we went out for a bit with Trillian and her beau Mr. Kyle Cassidy, who needs to take some author photos for me soon, and some other theatrical presences, but we were very sleepy in a very unpartyanimal-like manner.

On Sunday Mark made pancakes and he and Jen and Anna and I lay around by the fire watching the old Kirk Douglas movie Young Man with a Horn, where a talented young trumpet player goes to pieces over Lauren Bacall, as one does, and Doris Day sings some croony jazz. Later we met up with a group of other friends to have these famous volcanic hot chocolates that tasted like LIQUID CAKE:




And we did many other wondrous things and I spent much quality time with my girlfriend Anna before taking the Chinatown bus back to NYC and going deaf from loud, pumping Asian techno music.




The end.