So I recently recovered a ton of photos I thought I'd lost last year when my laptop crashed, and came across pictorial evidence of my first experience at BOOK EXPO, which is where I first saw galleys of
Rain Village
and experienced the following hotel room horror:
Massie and I drove down to DC for the experience, and were put up at a hotel by my publisher that we were told was the Ramada Inn. (I was also delicately asked if we needed one bed or two). We drove up and down the street and couldn't find a Ramada Inn. After much confusion we realized that we'd been misinformed and that the hotel at the address we were trying to find had a different name. President's Inn or something, I forget. So we park and go in and the first thing we notice is that the receptionist is sitting behind BULLET PROOF GLASS. But we bravely check in and proceed to our room. Which reeked of smoke. So we demanded a new room, which seemed okay enough until we realized that the MATTRESSES WERE ALL STAINED WITH BLOOD. And that there were food stains on the wall art. And that the remote control had wires sticking out of it. Then Tink and her brother called (her brother lives in DC and Tink was down for Book Expo as well), and when her brother heard where we were staying, he drew in a deep breath and advised us: "DO NOT WALK AROUND OUTSIDE." He also gallantly offered to come get us and put us up himself.
But we persevered. Despite the horror that had seized my soul, I could not help but feel that it was somehow appropriate that for my first glamorously authoressly event I should be sleeping on blood-stained mattresses and reaching under bullet broof glass to get my room key in the President's Hotel. It seemed a metaphor for the whole process of writing and publishing a book in the first place. And it seemed apt, too, that when Massie and I returned to the room after the first day of festivities (including a Harlequin book party in a large white mansion festooned with glowy white flowers and tuxedo'd waiters), the EXIT sign in the hallway should be smashed and scattered in pieces on the floor.
So of course like all normal people we thought this was all very hilarious and made the following glorious photonovela.
Disclaimer: What is pictured here is
not
a typical sequence of events accompanying the reading of mah book. Thankyou.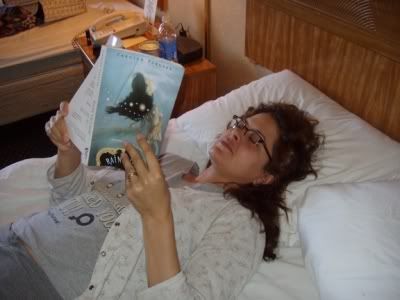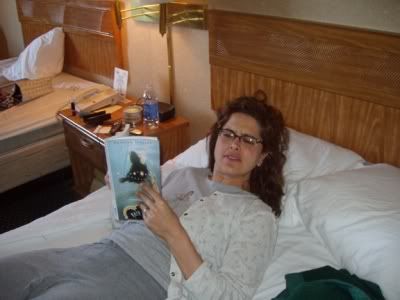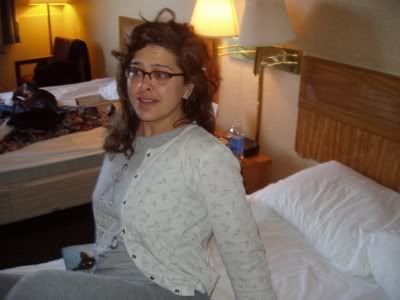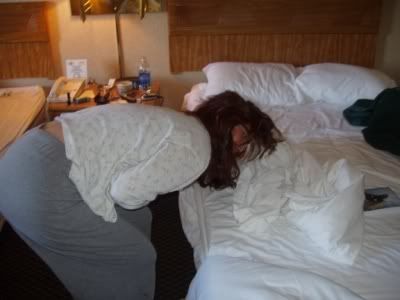 The end.
Miraculously, we survived this whole experience, and lived to take even more sophisticated photos last night on the graffiti-ed streets of the East Village. OH YEAH.
The end.