I would just like to humbly point out that I own the coolest tshirt ever.
In other news, yesterday, after hanging out at Pike Place Market all day with Barb, I met the wondrous Lisa and Paul, Lisa being the most adorable girl ever and someone I've known online for 500000 moons, for dinner.. Lisa does cool fashion things and flies off regularly to Hong Kong and Paul has done surgical types of things with snow leopards and owls.
I MEAN REALLY. Look how cute they are.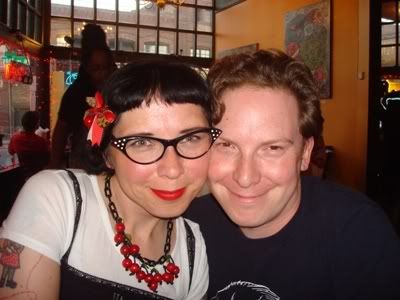 We then met Barb and Brenda and all went to see
The Bad Things
at the Columbia City Theater, which was AWESOME despite the terrible sleep deprivation that kept whispering in my ear, trying to lull me into other worlds. The theater was old timey and glamorous, there were 50000 boys in pinstriped suits and fedoras, girls in fancy dresses with flowers behind they ears, and the two opening bands -- The Peculiar Pretzelmen and Miss Mamie Lavona and Her White Boy Band -- were great. I MEAN GREAT. If I didn't rhapsodize about mundane things all the time I might possibly be able to find the language to convey how awesome these bands were, but all I can say is they were very cool, very funny, and did many things involving spoons, garter belts, dangling frying pans, and just heaps of plain old glamour and angst. Then the silks came down and this wondrous girl did a lovely aerial act while Beirut played in the background, and then the Bad Things came out in all their glory. The lead male singer plays accordion, the lead female singer dances around with all kinds of little contraptions, including at one point this corset thing with jutting silver bra-ish cups that she played with spoons.. The aerialist came out for several songs and twisted about in the air in front of them... And it was all just exactly what I love, and tonight we see it all again.
Here be some photos.