So I just got back on Wednesday from a very eventful week and a half in NYC and Philly and one amazing thing was seeing a reading of my friend David Bar Katz's new play
Burning, Burning, Burning, Burning
as part of
LAByrinth Theather Company's Barn Series at the Public Theater
. This is the third year in a row I've gone to one of David's new plays in this series and it was VERY AMAZING and starred Eric Bogosian and David was appalled that I only know Eric Bogosian as the captain on LAW AND ORDER CRIMINAL INTENT and even more appalled that I find this deeply impressive as it is in my opinion the best show ever. As APPARENTLY he's some kind of theater actor too. Anyway, unlike the last two times I went, this year it was completely packed and the plays in this series are free and given out on a first come first served basis and this year 100 people were turned away the night my sister and I went! In fact, we only got in since I roodly text messaged David before the play and DEMANDED ENTRANCE (we were stuck in a big line that was never going to move again) since I came all the way from Pennsylvania! And he had the director call the ticket people like two minutes before the show. I like to be a very supportive friend like that. Anyway, David's writing is always ridiculously, insanely hilarious as well as tragic and heartbreaking, at the same time. It's so rare and amazing to be able to do that. Plus he wrote the play in three days, as he is insane.
And THEN, just now, I bought seven tickets to a limited run LAByrinth is doing of David's new play from last year, which I LOVED LOVED LOVED,
Philip Roth in Khartoum
. It's so great -- hilarious and heartbreaking and clever, just chock full of everything. It's running at the Public Theater from Dec. 4 to Dec. 21 for 10 dolla, and it's almost sold out, so you should buy tickets THIS MINUTE if you want to see it, which you obviously do. David is also writing a
blog about the experience of putting on the show
and you must read it immediately.
David, by the way, is the father of these extremely evil children. I may look like I'm laughing in this photo, but believe me it was only through tears.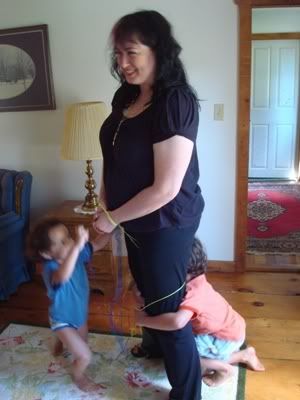 The end.