So I had a very fun, chock full and action packed week in NYC, running around every day to see friends over lunches and dinners and cups of coffee and glasses of wine--oh and I also saw my friend David's
amazing play
, and I saw
Slumdog Millionaire
, and I met with my publicist and editor and film peoples, and in spare moments I got glammed up at salons by small Russian ladies and worked on my new book, which I figured out TODAY, the last bits of it that is... and I got a mound of fantastical jewelry designed by
Andrew Hamilton Crawford
, the jewelry company where my friend Orly now works... I MEAN LOOK AT THIS NECKLACE AND RING... (the necklace says BAM! in true superhero fashione)..
and I also of course hung out with my best friend Aoife and traded cutting-edge fashion tips..
--and then today I got the train up to the
Grail in Cornwall-on-Hudson
, where my friend Massie now lives in a gorgeous grey sprawling farmhouse with her friend, the lovely dress-sewing cupcake-baking photo-taking Marcie, and it is about as quaint as can be up here.. I mean, when Massie and I walked over to the cottage house to get wine for dinner (there are several buildings/houses on this property), we walked over a field under the full moon as a herd of deer bounded by and, in the distance, the awesomely named Storm King Mountain glimmered with ice. For dinner Marcie made a broccoli soup that filled the house with the scent of garlic and ginger... tomorrow she's spending the whole day baking for the holiday party they're throwing tomorrow night, which will, among other things, feature mulled rum cider and white chocolate cupcakes... And every room has wide planked wooden floors and heavy old furniture and oil lamps.
It is the kind of house where aprons hang on doors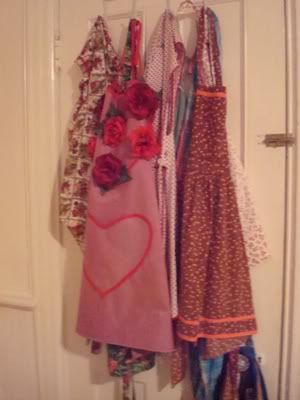 and dresses and old typewriters populate attics
and paper stars hang from chandeliers
and bedrooms look like they're full of secrets
and all kinds of glamour ensues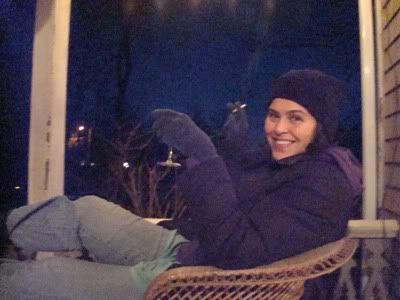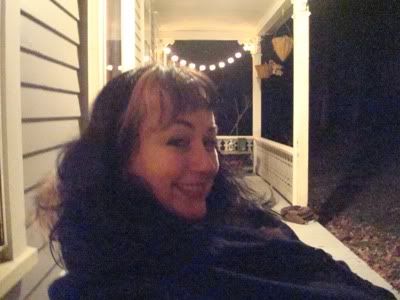 Oh! I also failed to write about the gorgeous rendezvous I had the week before last in Hershey, Pennsylvania, with my wondrous poker playing friend Ken, and I didn't write about how lovely a time I had in Philadelphia a few weeks ago, visiting the Mutter museum and doing cat puzzles and having apple cider with cinnamon sticks and wandering around Society Hill arm in arm... And playing canasta on Thanksgiving with my family... And how now I can now play
God Rest Ye Merry Gentlemen
on my accordion.
I KNOW.
It must be heard to be believed.
The end.