So I've been in NYC the past few days, trying to get some book stuff done and doing many lovely things, LIKE FOR EXAMPLE
-- seeing a preview of my friend Eric's show
33 VARIATIONS
with my friend Valerie, starring a very spectacular and kick ass JANE FONDA (and written and directed by MR MOISES KAUFMAN who directed one of my all time favorite Broadway shows I AM MY OWN WIFE and is a beautiful beautiful writer). Jane Fonda plays a scholar trying to figure out a mystery about Beethoven, so the show goes back and forth in time in a cool way and there is much gorgeous music. This is Eric's first big show as an above-the-title producer and I was done proud.
-- meeting a bunch of bookly friends for drinks and dinner, among them one MR ANTON STROUT whose second novel DEADER STILL comes out tomorrow. Here is the cover as well as our sparkling visages: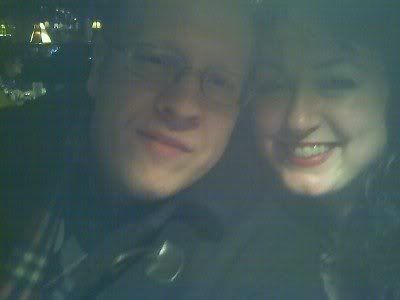 -- going to my first FASHION SHOW at FASHION WEEK with Joi and her old friend Jen AKA BEATCHIK and her nephew's wife Melissa, and sitting in the second row and seeing 50000 extremely bizarre alien beings tottering down a gleaming white space age runway wearing magnificent, elaborate clothes, like flowing gowns with big buddhas on them. I only have a certain amount of appreciation for clothing tho and was more fascinated by the models' glittering smoky eyed alien glares. AT one point I wondered if they were wearing weird silver contacts or something but I don't think they were, I think they were ACTUALLY ALIENS. OH and I did become smitten with this one pair of boots that seemed to be made entirely of glitter and was even more cool than the coolest pair of boots in the world and those of course are the boots that Madonna sees in a window and trades in her jacket for in DESPERATELY SEEKING SUSAN. Oh AND we were sitting within spitting distance, well maybe watermelon seed spitting distance, of MISS JAY from America's Next Top Model--the weird runway coach who teaches the girls to walk--and HE was sitting with some pale pale tall black haired guy in red and white stripes with big round glasses and a big red hat, and we all fell in love with him but we don't know who he is. But who don't love a gay man made of candy.
Here are some fascinating photographs, and you will notice that Michael Musto was right in front of us and if you squint squint squint in the third one you can see you some Miss Jay and the vaguest little speck of the candy man: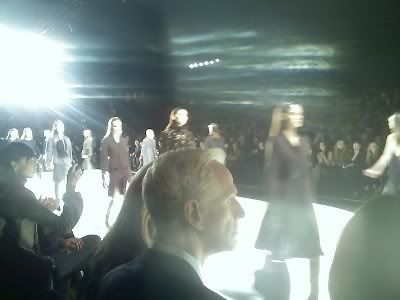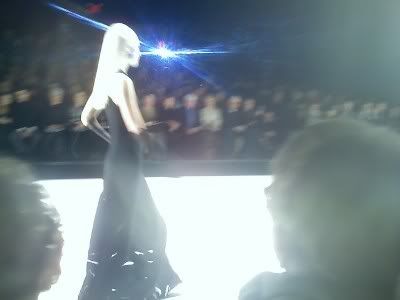 -- on Saturday getting a MASSAGE, followed by FONDUE and WINE with my friend Signe at one of the lovelist places in NYC The Bourgeois Pig, and then going to Brooklyn for Joi's BIRTHDAY PARTY where one MS SHEENA BIZARRE had a singing telegram sent at the stroke of midnight. Singing telegrams are awesome and really the best way to simultaneously embarrass your friends and show them you care. Please wish Joi a HAPPY BIRTHDAY if you haven't already. It's good to have a milestone birthday just before up and moving to Kansas for your one true luvv.
-- watching the horrifying OSCARS after a lovely lunch with my friend David and a margarita with my friend Anthony. Anthony, Rob, Autumn, and Joi and I sat and watched the terrifying dance numbers but also fell madly in love with MICKEY ROURKE AND HIS DOGS as well as with the dood who wrote MILK. And the adorable Japanese man who quoted Styx.
-- oh and having a long intense fancy lunch with Eric in which I cried openly in a crowded restaurant where the only person (besides Eric) in my line of vision was some character actor I recognized but didn't know the name of. I would like to think that this sort of behavior speaks to my DELICATE NATURE rather than lack of emotional stability, thankyou, and all was well and we expressed our deep love and devotion and then I went to PAPYRUS and bought beautiful pink stationary. As you do.
And I didn't even mention my many hot dates. Or the fact that I turned in the proposal for BOOK THREE to Random House. I KNOW. Slutty AND impressive!
The end.