So I'm writing from Pigeon Forge, Tennessee, where Joi and I arrived late on Sunday night after about 11 hours on the road. I love driving, and now that I've mastered the UHaul truck feel more confident than ever that I'd be an awesome truck driver should the writing thing not work out. And I could decorate my cab smashingly, and listen to lots of audiobooks, and meet serial killers. We drove from Pennsylvania through West Virginia and Virginia and into Tennessee, and then Pigeon Forge gleamed and winked out at us like a miniature Las Vegas and we were home.
Here we are at a gas station in West Virginia with the coolest sign ever. Please note Joi refusing to pump gas:
Here we are entering West Virginia, Virginia, and Tennessee. It is true. I can drive a UHaul truck and take riveting photos at the same time. I missed the Virginia sign as it sneaked up on us and flashed itself just after we drove through this disturbing tunnel. But everyone knows Virginia is the wiliest state.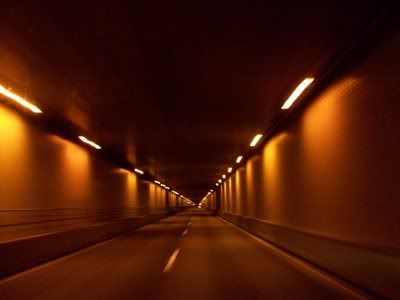 Then yesterday we spent the day at DOLLYWOOD. Which I went to once before maybe in 1995. Now they are celebrating some "Festival of Nations" there -- as if one goes to DOLLYWOOD for a multi-cultural experience -- so we saw some terrible Cirque du Soleil-ish typa show first, then dined on (well I dined on) a turkey leg glazed Asian style with a side of stir fried veggies. I remember years ago seeing some song and dance about the history of the Smoky Mountains but now that theater was showing some band from Ecuador I think. What has Dollywood come to? Anyway, we spent the day wandering around and we rode a rollercoaster and we took this steam train ride through the mountains ("The Smokies are a neverending song that change with every season, and every pair of eyes") and we watched the multisensory Dolly movie Heartsong (where butterflies start flying through the theater and rain comes from the ceiling) and we ate funnel cakes and fried green tomatoes and kettle corn and almond brittle and we bought post cards and rode a carousel.
Here we are elegantly waiting by the side of the road for the trolley to DOLLYWOOD. Behind us, you can see the alluring sign COUNTRY HAM (the Little House of Pancakes sign is just behind), which is where we had a scrumptious breakfast involving many grits: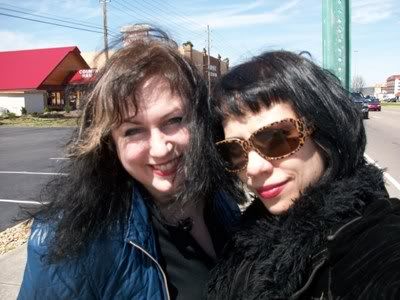 Here is Joi being extremely inspired by the Tennessee mountains:
And here we are riding the carousel like all the coolest people do: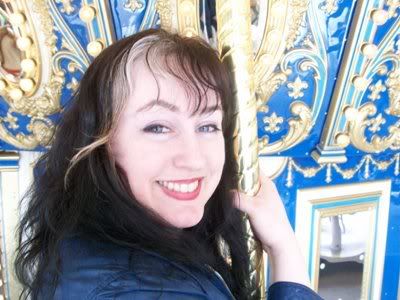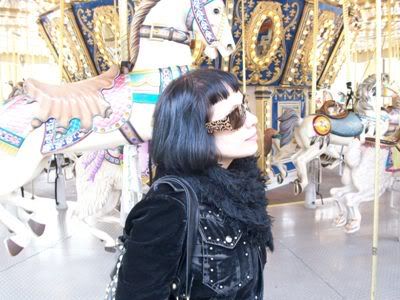 Then we took the trolley back to the hotel and got back in the UHAUL and glamorously made our way to
THE MIRACLE THEATER
.
Now look at this awesome brochure for the "stunning musical re-creation of the life of Christ told in epic proportion":
Joi was less convinced that this would be the BEST SHOW EVER so I bought the tickets and used my powers of VERBAL PERSUASION to get her to go. And it was indeed awesome. The show opens with a winged Lucifer flying over the audience from the back of the theater and landing on the stage, then engaging in a ferocious sword battle with many other winged angels and also narrating the history of creation to the audience. On a screen behind him, we see flowers opening and many exotic animales running through the jungle... and he's all expanding arms and looking up at the audience with his head bent down, his bald head gleaming and goatee dramatically pointing I-think-you-know-which-direction and his motorcycle boots clomping on the stage.
I do love me an insane over-the-top stage/passion play life of Christ, that crazy mixture of mouth-dropping hammy extravagance mixed with imagery that is (to me) genuininely powerful and moving no matter what. There were camels and horses and sheep on stage and walking down the aisles of the theater, tons of angels flying and swooping around, lots of dancing and singing and even a boat bucking and swaying across the stage during a thunderstorm.. There was Lucifer cackling and strutting about with a snake around his shoulders, listening in on people and hissing in their ears.. There was Jesus glowing white and performing miracles and calming a deeply slutty Mary Magdalene convulsing at his feet.
And of course there was the whole crucufixion scene, full on lashings and crown of thorns and crosses being risen, and it was as over the top as it could possibly be but also weird and moving and breathtaking and it was all extremely awesome, and the audience cheered during the resurrection scene and during a final battle where Jesus conquered Lucifer who then dissolved in a puddle like the Wicked Witch of the West.
Awesome.
Today we're heading into Knoxville to visit a few bookstores and have coffee with my second cousin Nathan and his wife Claire, and then we wend our way to NASHVILLE, where we shall spent the eve in a house on a hill in the woods with my lovely friend
RIVER JORDAN
.
THE END.