So I'm so excited today because I just randomly remembered about the existence of
WEEKI WACHEE SPRINGS
in Florida, the weird old mermaid roadside attraction that was huge in the 50s and 60s, that MS JOI BROZEK roodly told me about only just after I last returned from Florida a couple years ago, causing me much grief and sadness as you might imagine... Now I'm going back there in late April with my mother and sister to visit my grandmother and uncle--which is really the only reason I ever go there--so I just looked up Weeki Wachee and saw it's two hours from where I'll be and will indeed be open... There will even be a little mermaid show based on the original Hans Christian Andersen story, justa like my next book. Which, as it happens, I am now doing the last last last final draft tiny edits on and will be done with forever on Thursday. And I might have possibly said that before but this time it is really, really true and not just semi true.
Anyway, WEEKI WACHEE! Some snippets from the website:
In the 1950s, Weeki Wachee was one of the nation's most popular tourist stops. The attraction received worldwide acclaim. Movies were filmed at the spring, like "Mr. Peabody and the Mermaid." Sights at the park included the mermaid shows, orchid gardens, jungle cruises, and Indian encampment and a new beach. The mermaids took etiquette and ballet lessons.

In the 1960s, girls came from as far away as Tokyo to try out for the privilege of becoming a mermaid. The glamorous mermaids performed eight shows a day to sold out crowds -- as many as half a million people a year came to see the Weeki Wachee mermaids. Weeki Wachee Springs employed 35 mermaids, who took turns swimming in the shows and captivating the crowds by playing football and having picnics underwater. Some of the mermaids lived in the mermaid cottages out behind the attraction. The mermaids wore one-piece suits and were treated like royalty wherever they went in Florida.
!!!!
By the way I own
Mr. Peabody and the Mermaid
if you'd ever like to come over for a
Mr. Peabody and the Mermaid
party.
Here's a video from Weeki Wachee in 1952:
And some photos, old and new. The first is from 1947, by Toni Frissell for Harper's Bazaar.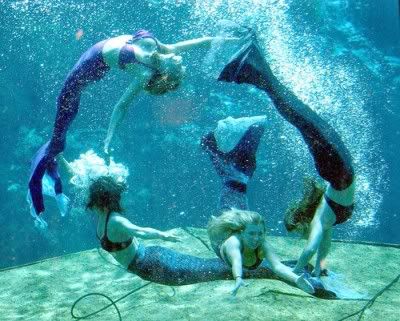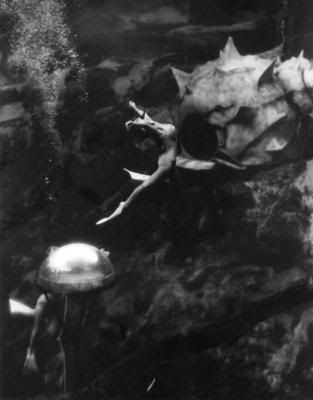 Admit those are amazing. I am hoping to lure my grandmother there and then we can all go, but I might possibly go by my lonesome or with a friend who'll be in Orlando then. My grandmother has a pool down there that my sister and I used to swim in all the time as kids while my grandmother told us we were like little Esther Williams es. To this day I have never seen an Esther Williams movie so I have now proposed that we all watch an Esther Williams movie or two before spending the day at WEEKI WACHEE. You're supposed to go to Florida for theme vacations in my humble opinione, and I really can't think of one that's better.
I mean really.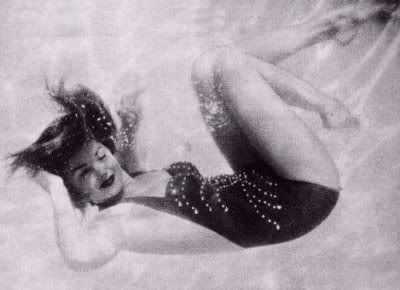 In other news, tomorrow I'm seeing Henry Rollins and Wednesday I go back to bellydancing class after more than a year (next up: accordion!). Then Thursday, the unbelievable glamour of CINCINNATI.
I know.
The end.