So I am back in State College, Pennsylvania, after a week in Florida, a weekend in Philly, and another week in NYC, and I am very very excited for a few reasons but ONE reason is that after a few false starts and much going back and forth with my agent I have finally, finally figured out book #4, which I believes will have something to do with one SNOW WHITE. Snow White being, in my opinione, the coolest and weirdest fairy tale of all time. I mean really, beautiful dead girls lying in glittering glass coffins in the middle of the spooky woods (and there are some extremely weird corpse-lovin variations on this already weird theme in some of the old-time variants of this story, one involving a dead girl locked in a series of crystal coffins, one inside another, and locked in the furthest room of the house) and stepmamas (or mamas) eating, or thinking they're eating, the hearts or lungs of said dead girls, cooking them up with salt... Little mermaid is weird enough, what with tongues being cut out and legs that feel like they're being run through with knives... and of course all of this is balanced out by sheer, utter gorgeousness... BUT I shall stop now, in mid-thought, and with no transition at all sum up the following wondrous events:
1. Ok so in Florida I finally got to go to
WEEKI WACHEE SPRINGS
, the live mermaid city old-time roadside attraction in Weeki Wachee, Florida. I love these amazing, cheesy old places that were once so popular and so glamorous and are now sort of half glamorous and half weird. I mean once upon a time, girls came from all over the world to audition to be a Weeki Wachee mermaid, and those girls were treated like royalty... like old circus stars were, like Lillian Leitzel the old trapeze star that Tessa from Rain Village is semi inspired by was... Weeki Wachee is a pretty small old park with underwater mermaid shows in this little theater where a curtain lifts and mermaids are swimming about behind glass, two different shows, one about the history of the springs and one a take on the little mermaid... and there's a boat ride... and some animal shows, and some random mermaids sitting around... and it's all extremely awesome, in my gorgeous opinion.
What made it especially awesome was that one Miss
JULIE KOMENDA
happened to write to me a few weeks before, and happens to be the ARTIST IN RESIDENCE at Weeki Wachee. She does these lovely batik kinda shimmery mermaid paintings (click on the link to see) and lives right there in Weeki Wachee. When I told her I'd be coming there, along with my grandmother, uncle, mother and sister (and, as it happened, due to the wonders of Facebook, our old friend Michelle who now lives in St Pete and joined us for the afternoon), and invited her to lunch with us, she offered to show us around and take us behind the scenes. And so we drove 2.5 hours from my grandmother's house, and Julie, who was totally charming and felt like one of the family immediately, met us at the gate, and we all had lunch and then went to see us some mermaids, as you do. Look!
This may or may not have been part of the Lee-Greenwood-playing-in-the-background mermaid tribute to the US of A:
The little mermaid loving her some human things: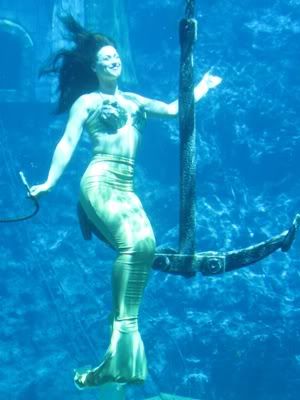 This is how the mermaids get in the water:
Mermaid fins:
Me and Julie:
My sister, Michelle, and me:
Me just casually hanging out:
And my grandma doing same:
2. I also, whilst in Florida, spent a very cool day with my uncle, who took me up to LAKELAND, which is the "city of swans" and has a number of swan statues scattered all over the place as well as a big lake with about 5000000 swans strutting around it right in the middle of town. Actually I don't know if that lake is in the middle of town but it is a very cool lake nonetheless, and the town itself is quite pretty and I was enamored not only by the swans but by that same old-time Florida glamor, like of the
POLK THEATRE
, one of those old-time movie theaters I love love love, this one being famous for having hosted my boyfriend ELVIS (a Weeki Wachee claim to fame as well). Anyway, I spent much time observing said swans, in part because my children's book coming out next year shall involve a SWAN MAIDEN. But more on that later.
Look at this poser: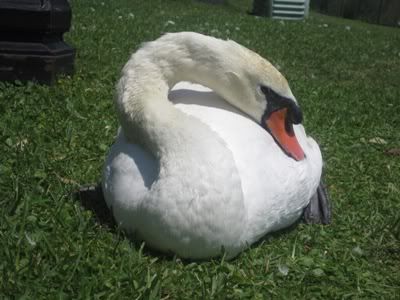 At one point these ladies gave me some bread and I said "thank you!" and then looked up to see 5000000 swans HEADED STRAIGHT FOR ME and so I glamorously threw them the bread and ran away. But not before screaming in a lady like fashion and snapping this photo to use as evidence. Just look at the gleam in that one no-good swan's eyeballs!
And look at the sheer laziness of this one, no doubt reflecting on its latest crimes:
Said crimes no doubt including but not limited to the snatching of bonneted babies:
Sigh.
3. My uncle also took me to see the
Lakeland's Florida Southern College campus, which was designed by Frank Lloyd Wright
, who had a deep love of shiny colored glass, which appeared over and over again, embedded alluringly in the buildings, winking at me and licking its lips: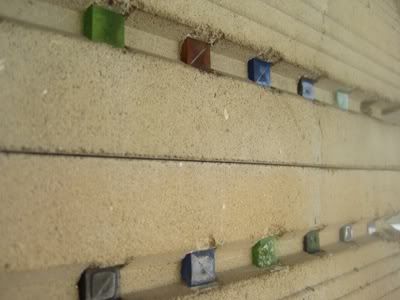 !!!! Really, I think all buildings -- and things -- should be so adorned.
4. So ALSO, during our Florida visit my sister and I stayed with my grandmother's friend GLENNA, who is awesome and loves Jack Daniels and poker. Every evening we'd go back to Glenna's and get to work:
Sadly, she cleaned us out, and drank yours truly under the table. She also introduced us to the pleasures of DEAL OR NO DEAL, which was very emotionally taxing. As a thank you, my sister and I sent her the above photo placed on the back of a set of playing cards, with the words "GLAMOROUS.... YET DEADLY" written along the bottom. We are very classy that way.
THE END.