So on Saturday I drove to Philly for the final performance of Curio Theatre's steampunk version of Twelfth Night starring, amongst others, actress extraordinaire Trillian Stars AKA
Jennifer Summerfield
. Curio Theatre has this amazing space in this old church and the play was staged right up against the old organ pipes, around which steam billowed in a gorgeously atmospheric fashion while actors scuttled up and down stairs and fireman/stripper poles. And so fashionably! Look!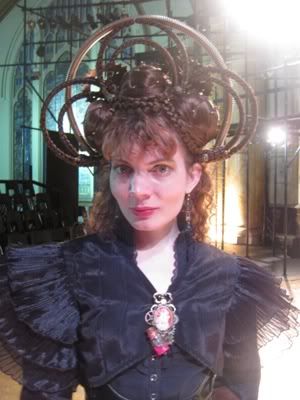 Here are a bunch of photos from the byooteous program photographed by
Mr. Kyle Cassidy
: http://www.jaredaxelrod.com/main/2010/05/12/your-last-chance-to-see-twelfth-night-is-fast-approaching
Speaking of which, I caught said photographer extraordinaire, and husband of Ms Trillian Stars, in the act, post-performance: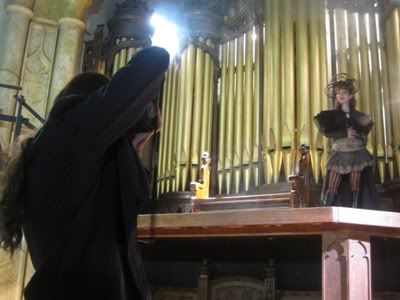 So romantic! They are really the most romantical couple ever. Like Dietrich and Sternberg! But more nice and less German.
My old friend Sue came as well, and after we all had drinks at an awesome Indian bar with mirrored walls and Christmas lights, and then I stayed over at Sue's lovely lovely tree-and-garden-surrounded house where I was awoken by what I thought was a baby crying but was actually a very boisterous and ill behaved BIRD, and then I met her dashing husband and totally sweet son Duncan and we all had bagels and sat on porches but due to my discombobulation I forgot to take any pictures at all and then I went back to the middle of the state where I visited one Ms Vivienne Coco Lee Witmer, who roodly fell asleep on my lap whilst holding my hand, as if yours truly has nothing better to do in life but act as a BED to lazy children with drag queen names:
Look at her and her mama, I mean really:
Oh, and I had lunch today with my friend Hannah who told me about many wondrous things including
The Great Skedaddle
which I believe is the best name for anything ever.
The end.