So I've been meaning to update this and now it's been many weeks since I have and I've been to all these lovely places I would like to show you, but first look, here is the UK cover of
Mermaid
, which it seems will also now be the USA cover (in place of the fishtail one which I also love) since it is so so beauteous and possibly more commercial:
Isn't it looovely? The book comes out in the US and UK in March 2011 but I have galleys now in case you are dying to REVIEW it or blurb it or something similar.
So, since the book is based on Hans Christian Andersen's The Little Mermaid, last month I took a little trip by myself up to Copenhagen and Odense, Denmark (from Berlin, where I've been since mid-August), to visit all these Hans Christian Andersen sites. Like, the house where he was born and the house he grew up in (both in Odense), several places he lived later in Copenhagen, the very weird "Wonderful World of Hans Christian Andersen" in Copenhagen, the very awesome museum about him in Odense, his grave in Copenhagen, Tivoli Gardens where a copy of the little mermaid statue is right now since the real one is roodly on loan to SHANGHAI, and so on. I tromped all around with map in one hand and Flip camera in the other and took many many teeny videos of myself talking about HCA (who was extremely weird and awesome) whilst obnoxiously glowing-with-health Danes sprinted or biked by (I think some might have flown) staring and laughing at me and occasionally waving to the camera. You'd think they'd never seen an authoress filming herself in front of random buildings before!! Or maybe they were just amazed and appalled at my relative unhealthfulness. Really, they are very obnoxious.
Here are some photos
here
. On Facebook, as I am very lazy. Later, when I am less lazy, I shall post videos, too.
So then last week I flew to Italy to meet up with my mama and sister for five nights in Florence and one in Siena, and that was all awesome (and photos are
here
), but I already loved Florence and Siena, and so what blew my mind was WARSAW, POLAND, where I turned around and went on Saturday after returning from Italy Friday night.
I went to Poland because I wanted to see Leonard Cohen in concert, finally, after loving him for so long, since I was a teenager, but never seeing him, and because I was mad that I missed him in Berlin. He played here in August, like the day after I got here, but I had no idea! So my choices were Warsaw, Hannover, or Bratislava, and Warsaw was the cheapest and seemed most interesting, I thought, and then my friend Jen in Dresden decided to come, and so we planned two nights at a Holiday Inn and got our tickets and met Saturday morn on the train platform at Hauptbahnhof in romantical and even cinematic fashion.
Now the whole trip was amazing and we both fell madly in love with the city, which I'd heard was sort of fugly and uninteresting but is in FACT totally gorgeous, but what really astounded me is that Warsaw is full of MERMAIDS. I even thought to myself before I left that maybe I should bring my Flip camera, maybe there was some Polish or Warsaw mermaidly thing I didn't know about and then I thought that was ridiculous and left said camera behind. So imagine my surprise when Saturday night, Jen and I walk into Old Town, which is very very charming and cobblestone-y, and then into the main square, at the center of which is a statue and a fountain, and I almost don't even go look at them but then I do and then suddenly realize that this sword- and shield-carrying figure is actually a mermaid.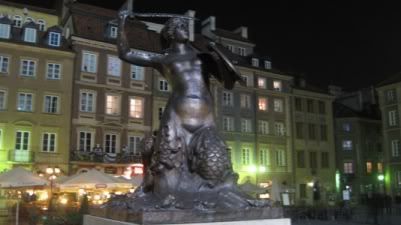 A twin-tailed mermaid with the name SYRENKA (which means little mermaid, I would discover) carved below her.
So this is pretty weird, I think, and I take a bunch of photos, and then we randomly walk down one of the smaller streets shooting off the main square and we pass some televised window display and we stop and realize that we are looking at tons and tons of photos (the screen changes every several seconds) of mermaids. And we realize we are in front of the city archives and this is a whole show about the history of mermaids in Warsaw and how the mermaid has been the city's symbol since the 1400s or something and has appeared in all kinds of historical documents and on the city's crest and there are old Mucha drawings from old Warsaw newspapers and all KINDS OF THINGS which really leave me feeling quite astonished.
So that night I glamorously sit in the lobby of the HOLIDAY INN with my laptop reading and reading about the Warsaw mermaid and about all these myths about how she swan down the Vistula River one day many moons ago (after parting, in the Baltic Sea, from her sister, who went on to Copenhagen) and fell in love with the city and then, after being caught by some evil merchant and rescued by some lovely brothers, vowed to protect the city from then on. And she's everywhere. I mean, on every street lamp, every bus, every little thing on every sidewalk, like this: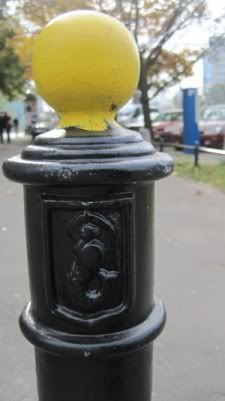 Or under business signs, like these:
And there are more statues, like these:
And honestly, the whole thing was really quite STRANGE and amazing.
Many other things about Warsaw were amazing, and I put up more photos
here
. But in brief: WWII is
everywhere
in a way I've not seen before, and that was pretty fascinating and intense; the city is really beautiful though it was almost entirely destroyed in the war (but you wouldn't know it, with how it's rebuilt itself); Leonard Cohen completely wrecked me, was amazing, and the Polish president was in the audience, too; and oh my God pierogies. Baked. With bacon and green peas and vats of sour cream on the side. I mean really.
So we're going again next year and will see us some Krakow, too, unless of course fate has other plans which it sometimes does.
For now, though, I have two more weeks in Berlin, and then I head back to NYC via Heidelberg and Iceland, and I'm working on my children's book and my book that will follow Mermaid, and I hope to be able to talk about both projects in a more official manner very very soon.
Also, look at this totally weird statue in Berlin from 1907 of a merman spying on a sleeping naked lady:
Never, never fall asleep when there is a merperson around.